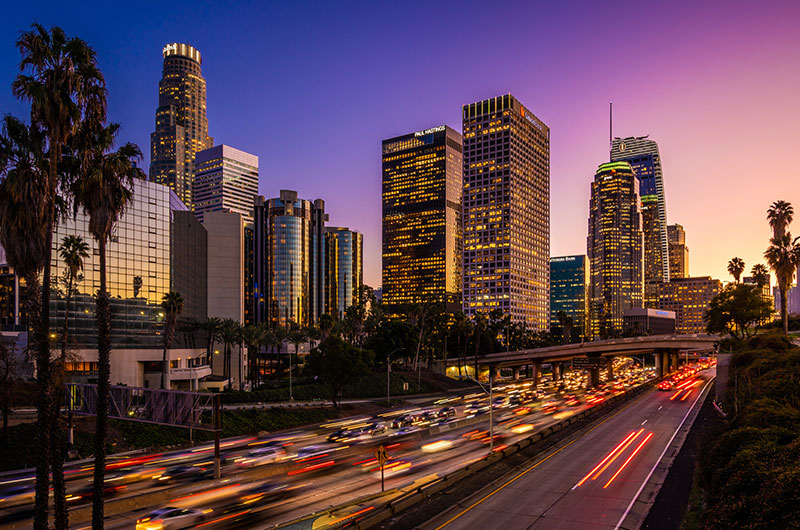 Stylish, urban Downtown Los Angeles thrums with activity 24/7. One of the fastest growing neighborhoods in the city, DTLA —as it's affectionately known— is divided into several smaller districts, jam-packed with things to do from dining to entertainment and annual events. It seems like there is always something happening in DTLA, but one thing is definite: there's an abundance of opportunities to work and play here. 
 What you will love about Downtown Los Angeles:
City exploration is a favorite pastime among DTLA locals. After all, they have six to seven distinct areas to experience within the neighborhood. Cultural hotspots include Chinatown, Little Tokyo, Arts District, and Historic Core. Meanwhile, a plethora of retail and dining choices are available in Bunker Hill, Financial District, and South Park.
DTLA has a large collection of historic and cultural landmarks scattered around the neighborhood, ranging from historic eats to well-preserved buildings. These include Philippe the Original, which has been serving French dip sandwiches since 1904; Clifton's Republic, the fabled LA nightlife haunt; the Union Station, remarkable in its blending of Spanish Colonial, Mission Revival, and Art Deco design, and; the Bradbury Building, built in 1893 and is the oldest commercial building in central LA.
In DTLA, it's fine not to have weekend plans. You will find something to do as soon as you step out of your home, from free summer concerts to farmers markets, street art shows, or cultural events like Nisei Week, which is held in Little Tokyo every year to celebrate Japanese-American heritage. 
Real estate in Downtown Los Angeles
Urban dwellings define DTLA's real estate landscape. This is the place to live out your dreams of modern city living. Options range from apartments and loft spaces in older storefronts to contemporary high-rise condos decked with luxury amenities. Some notable condo buildings in DTLA include 1100 Wilshire, The Ritz-Carlton Residences, and TEN50.
Attached single-family homes exist in DTLA, but are considerably older than other residential real estate in the neighborhood. Furthermore, these homes rarely hit the market to be sold. 
Tour residential properties in DTLA with Maximum Realty and Property Mgt. Get in touch with our team today for more information.

Sorry we are experiencing system issues. Please try again.